Wanted & for sale
DISTANT STAR is a 38 Aft Cabin, 1988.
I am wanting to have deck boxes built to fit on the aft deck ( at the stern). So in the attached photo from bottom left to bottom right (out of shot)
All I need is the dimensions of the deck from the guard rail to the central hatch/opening to the aft platform.
James Troup, Heneford House, Chetnole, Sherborne, DT9 6PE, United Kingdom
+44 1935 873136
+44 7836 503 377
email:

[email protected]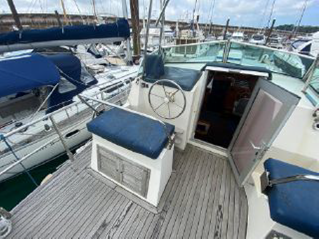 PAIR OF FULLY ADJUSTABLE YACHT LEGS - for sale

Model FA2 from 'The Yacht Leg & Cradle Co Ltd'.
£ 500
Please contact Ben Pearson on: [email protected]
Please also see the selection of boats on the website of Aquastar Ltd.